A very warm welcome from The Anchor House.
It was my new year's resolution for 2022 to start our blog, so here I am! First a quick introduction. I am Jenine, the housekeeper at The Anchor House. Some of you may remember me from my previous life when I ran The Olive Tree Café, alongside my best friend Tina, up in the village of Chorio. Sadly, The Olive Tree did not survive the Covid pandemic, but I am a true believer that,
"when one door closes, another one opens"
.… and it surely did! I was lucky to be chosen by owners, Panos and Sybella, and be entrusted with the daily running of their beautiful home.
Back in 2017, many of you will have watched as the rocks above Paradise Beach were excavated and from within grew the fabulously designed buildings that were to become the Anchor House. You can explore our website to view the luxurious and spacious bedrooms, the numerous terraces, the jacuzzi overlooking the sea, but number one on my list is the kitchen! The first time I walked into the huge open plan saloni / kitchen, with its super high ceilings and views out to sea, Miele appliances and a fridge big enough to live inside, I felt like I was in heaven. For someone who has worked in catering for most of my working life I had never seen a kitchen like it…it is a dream and the perfect set up when you are cooking with friends and family. On New Years Day we did just that. Myself, my two sons and their godfathers spent a leisurely morning preparing an Indian feast. The weather was kind, mild with clear blue skies allowing us to have the doors open and enjoy coffee breaks on the roof terrace, enjoying the panoramic views out to sea and around into the main harbour of Yialos. Moments like these we really do appreciate where we live and feel lucky that we have been able to make Symi our home.


Through the year our Anchor House 'family' will all take turns to write posts for the blog. We will share some of our everyday lives here on Symi, highlight the unique features that the Anchor House has to offer, take you on trips through the island as well as telling you the story of how the Anchor House came to exist.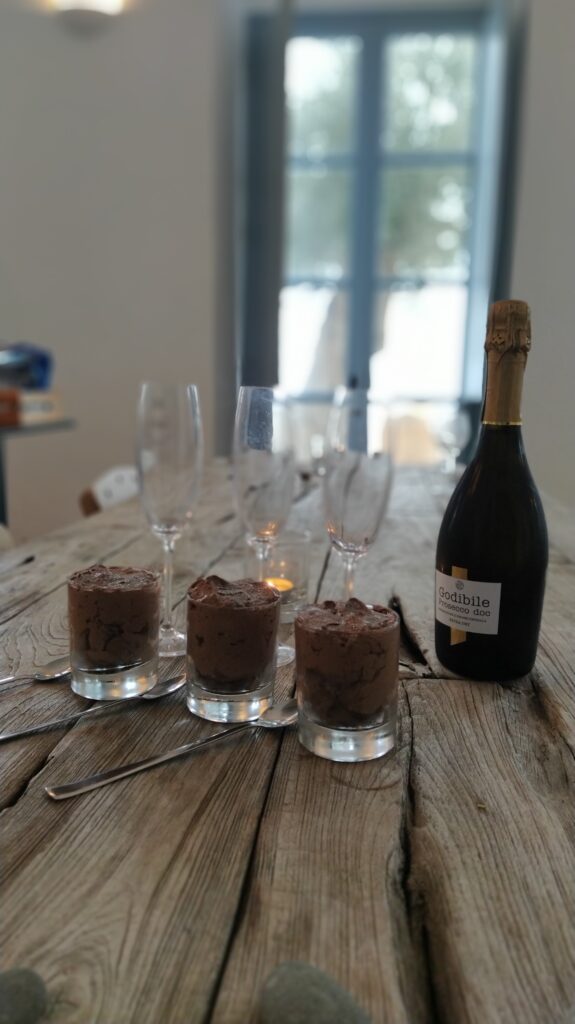 To end today I will share the recipe for our New Years Day dessert, a velvety chocolate mousse, super easy to whip up and perfect with a glass of Prosecco!
---
Chocolate Mousse in a Glass
300g dark cooking chocolate
3 eggs at room temperature
55g caster sugar
1 tbsp cocoa, sifted
300ml double cream
Place the chocolate in a heatproof bowl over a pan of gently simmering water, don't let the bottom of the bowl touch the water.Stir until melted.
Remove from the heat, stir in a good shot of your favourite liqueur and set aside to cool. Beat the eggs and sugar together for 5 minutes with an electric whisk, until they are pale and doubled in volume.
Whip the cream in a separate bowl until thickened. Add the cocoa and melted chocolate to the egg mixture and fold in. Lastly fold the whipped cream into the mixture, try to keep the mixture as light as possible by incorporating air as you fold them together.
Spoon into 6 glasses and chill for at least an hour. You can decorate with more whipped cream, grated chocolate, chopped nuts, black cherries or redcurrants as you wish. Enjoy!
---
If you would like to be the first to hear our news then please sign up for The Anchor House mailing list We will chat again soon, Jenine.